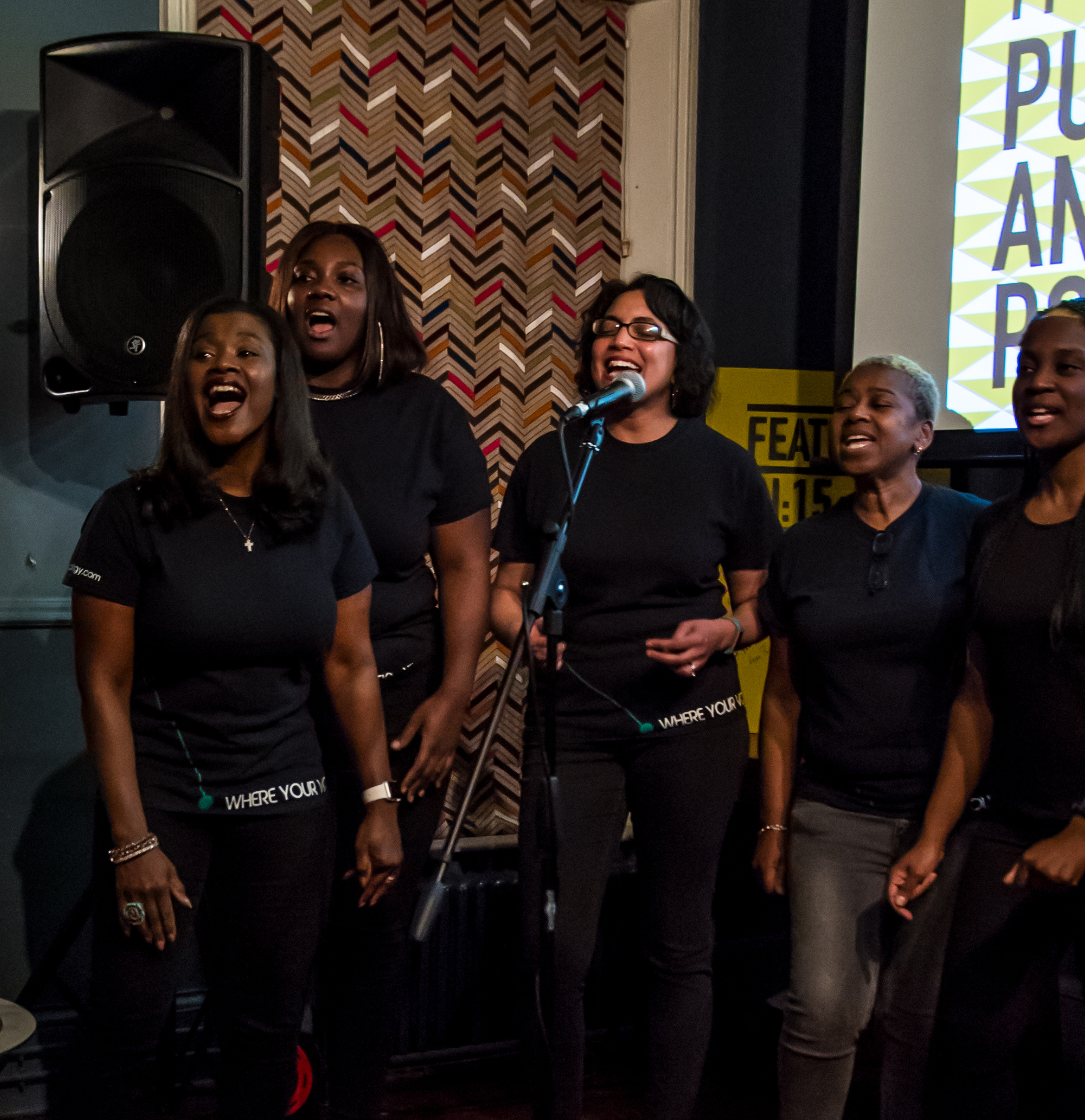 Purpose an Power: Featured In Fifteen's April Event
We had another FFabulous and successful evening at the Signal Pub, Forest Hill on Thursday 19th of April, if you missed it here's it all captured curtsey of Georgia Gallant who kindly offered to write about the event, capturing all the FFine details for us (which we never get the chance to do!)
"Kids in care have the right to move and live with dignity" - Dave Linton, Madlug
What would you do with £480? Maybe buy yourself a new gadget, or book a weekend break? Youth worker Dave Linton started Madlug, a luggage company with a one for one approach: for every bag you buy, one is given to a child in the care system. There are 96,000 children in care in the UK, with approximately 1 being processed every 15-20 minutes, the length of time it takes for a FF guest to speak.
Madlug short for 'Make a difference luggage' concept is simple - for every bag you buy a young person in care is given a foldable highly discreet and portable sports bag with the message 'Your are incredible' in the belief that every child should carry their life with dignity and to stop black bin liners being the only option (which sadly is the outcome for most children in care). Dave's nobility is clear when he says Madlug "wasn't about devaluing any services" or shaming them, it was just about giving an extra helping hand. Madlug provides jobs for care leavers to give them "dignity over poverty", as so many find it hard to complete their education while living a hectic life in the care system, and half of Madlug's bags are made in Belfast (where Dave is from) providing work for vulnerable members of his community, those that are either physically or mentally challenged which is another example of creating jobs and inclusion to all. Dave's fifteen minutes (ok it was a bit more than that!) ended on the heartfelt thank you letter that was sent anonymous from a care experience young person, a reminder that giving your all to a project you care about may break you down at points, but in doing so you'll be lifting others up, sharing the power and making something with purpose.
"Who's going to save the planet if it's not you?" - Sally , Manifesto Woman
Sally is a mum of two, and a "natural rebel who loves clothes'. She wants to do her part to save the planet and have a purpose, but at the same time needs convenience. Her solution was to create Manifesto Woman, a website featuring handmade, homemade and second hand clothing with an upmarket consumer twist.
Sally believes it's time to start using our power as consumers differently, even though many of us feel that as individuals it's hard to create change. However, she seamlessly illustrates the power of the individual, stating: if one person were to convince five people in one month to change their spending habits, and each of those people were to do the same the next month, in 6 months 19,530 people would have done so. In 12 months, you would have influenced more people than there are alive. She says, "it's about connecting with others, sharing a message and driving purpose". Sally delivers a short and concise feature fix for us; making considered and conscious purchases impacts the planet more than you think, and encourages you to connect with others in a way that fast fashion doesn't. By creating Manifesto Woman, Sally is helping to create a community of 'usership' rather than 'ownership' - using something then passing it on - that encourages people to think about how they care for their clothing, what purpose it gives and how it will empower others in the future.
Sally is one of many awesome pop up's in Hackney this Thursday 26th April at Arch 5, Bohemia Place, Hackney, E8, 1DU 12noon - 9pm contact Sally for more information at: sally@manifestokids.com
"As a photographer, I'm someone who has been trusted with this project and my relationship with the Furries" - Tom Broadbent, At Home With The Furries
As portrait photographer Tom came to the mic, a few faces in the audience begin to smile and lean forward, it's a highly anticipated moment in the evening. After some background on his career as a portrait photographer, he begins to talk about his work with the UK Furry community, a subculture who share a love of anthropomorphised animals and wear life size animal costumes, custom made to match their 'fursona'.
Originally approaching larger publishers to get this project made into a book, Tom was declined as there wasn't a market for it. The subsequent month long kickstarter campaign then proved them wrong, raising £10,181 with 205 backers. Tom's project is a chance at showing this subcultural community in a mainstream light, but with this comes a big responsibility of power. It's all about trust and respect, and carefully navigating relationships with others - something that we should be conscious of everyday. As Tom flicks through a slideshow of photographs of Furries, some people look confused or nudge to the person next to them, he says, "you are meant to laugh, but it is serious". As the talk continues you get a sense of the connection that Tom has made working with this community over the years. What is totally admirable is that he knows the name and location of every furry he has photographed, sharing small anecdotes about their personalities to accompany the series of intimate portraits.
Being a Furry allows you to become a different character, and the power of being a photographer allows you to put yourself in that person's shoes. The balance of power in this project continually shifts between the subjects, Tom, and the audience as you gain a deeper understanding of the Furries' day-to-day lives. Tom's book will be published in September. You can pre-order the book from the 1st of May onwards via his website www.tombroadbent.com or via email: tom@tombroadbent.com
"There's a harmony between us aside from the singing" - Sheila, alto in South London Singology choir
Our musical interlude of the evening from the Forest Hill branch of community choir Singology was emotional and uplifting. Singing both gospel and contemporary, Singology; ethos encourages anyone of mixed abilities to join which builds confidence and new experiences for all. It was amazing to feel the connection between a group of women of mixed ages all connecting through the power of their harmonies, while each person had their own distinct personality.
"I'm an interdisciplinary creative… I don't know what that means either" - Simon Eves, interdisciplinary creative
Simon Eves shared with us his career journey; starting out as a freelancer, he took on whatever project came his way and learned a lot in the process. A logistical nightmare when trying to explain to people what he does, but 'interdisciplinary creative' tends to satisfy and lead to no further questions - phew.
His work with film company Complicité lead him to the opportunity to make a fifteen minute film called 'The Little c', which challenges the monolithic cancer narrative that we are so often confronted with. The film explores the unusual stories of cancer patients who collaborated with Complicité's creative team on their musical A Pacifist's Guide To The War On Cancer. Simon wanted this story to take away the power that is associated with the word 'cancer' and give it to the people living that experience, to have a more nuanced conversation and challenge the binary narrative of a honorific death or heroic survival that so many people living with cancer don't experience.
This project has led Simon to create something with more power and purpose than he originally sought out. The purpose of the film changed from a behind-the-scenes documentary of making a musical, to a thoughtful, unique piece of work on the stories in-between the extremes of cancer that have become the norm. Simon has so many more projects up his creative sleeves and we can't wait to see how these unfold. Keep up to date on Simon's creative developments via: simoneves.com/
"I'm blindly believing that the thing I'm good at will give me the life that I want" - Sarah Powell, presenter, writer, podcaster and celebrant.
Our last but in no means least feature fix of the night was Sarah Powell who emotionally stripped down and laid out the workings of an identity crisis. After an impressive career in TV and Radio, last year she agonised over questions; 'What is my purpose? Who am I? What's going on?'. Coming to a place in her life where she had 'it all', but then realising her dream job wasn't actually what she wanted. Feeling challenged over her purpose in life she entered the world of freelance, finding that hard because she felt she didn't have the right 'hustle' in her. Sarah's story is like so many others, fuelled by imposter syndrome with the constant nagging that you aren't doing enough. So she had a moment with herself, started reading life affirming book 'You Are A Badass' by Jen Sincero and began her next life chapter. Sarah's power lies in her total admittance and honesty of not knowing her true purpose, however her vibrant energy is inspiring and when standing in front of a crowd and honestly admits she doesn't know what she's doing except that she's no longer listening to what she should and shouldn't be doing according to others, and just going for it.
What all our fabulous features brought us on Thursdy night was that power should be for change, have a purpose and a positive goal and you don't have to explore too far within yourself to find it.
We really hope for those of you that did join Thursday night that you enjoyed it as much as we did and all we ask is that you share your experience with as many people as possible so we can continue to deliver our FF evenings to inspire and showcase the incredible and powerful member of our community making awesome differences to our society every day.
Thanks again to Georgia Gallant for making this editorial piece possible and to all our features for giving their time to our project.
Put June the 28th in the diary for our next FF which we are busily curating - this feature marks our year (A YEAR ALREADY!!) of our FF movement. The theme is Courage and Community and we cannot wait to share with you our FFeature FFixture!